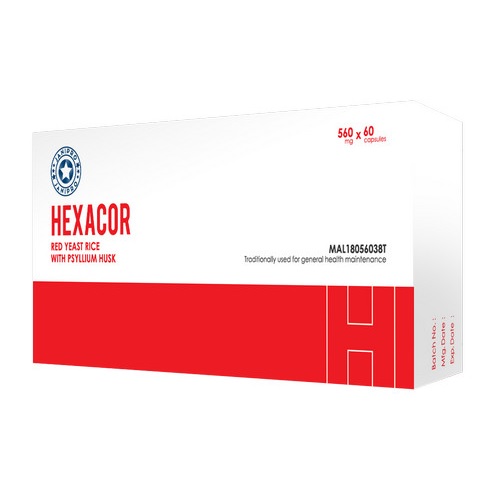 HEXACOR
Benefits
- Maintains healthy cholesterol levels, naturally
- Reduces fat absorption in the body
- Improves blood circulation
Unique Features
- 100% free from citrinin toxin
- Purity guaranteed
- Established safety profile
High cholesterol seems to affect many adults who regularly consume unhealthy fatty food. When high cholesterol levels are left unchecked, the risk of heart diseases continues to rise. Coupled with other medical conditions, it can become a series of chronic health problems.

In the past, communities from East Asian countries have routinely included fermented red yeast rice as part of their diet to promote health and wellness. The local communities were not able to explain the health promoting properties of fermented red yeast rice until recent technological advancements. They discovered that the active ingredient, Monacolins-K, helps to maintain healthy cholesterol level.
Janipro Hexacor is a traditional supplement made of fermented red yeast rice and psyllium husk fiber. It is manufactured under a stringent process to ensure that it is 100% free from citrinin toxin.
- Red yeast rice (Monascus purpureus) 490mg
- Psyllium husk fiber (Plantago ovata) 20mg
Adult: Take two capsules once daily after meal or as recommended by doctor or pharmacist.
---